I've read, for many years, about the Liverpool Acoustic Songwriting Challenge (LASC) and watched previous winners like Rachael Jean Harris (2018) and Alison Benson (2019) receive praise for their work as songwriters.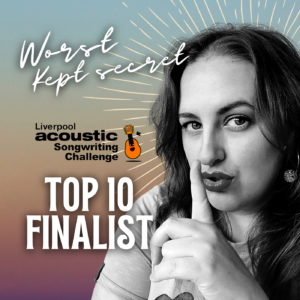 Making the transition into the original music scene has been tough, and so when the opportunity arose to apply for 2021's competition, I decided to submit a song called "Crooked Smile'.
It's a completely new track (not on the forthcoming album), and was really fun to write because it was inspired by a piece of artwork I bought on Lark Lane when I was at lunch with my dad.
You can imagine my surprise and excitement when Graham Holland emailed me last night to inform me I'd MADE THE FINAL TOP 10! 
We will be performing our songs live at LEAF on Bold Street in January 2022. I'll let you know more details when they're released.
HOW FRIGGIN' EXCITING, THUNDERBOLTS!!! I'm over the moon to even be considered.
2022 is already shaping up to be a great year… Watch this space.
---
The Liverpool Acoustic Songwriting Challenge is a truly unique event where songwriters are challenged to write a new, original song inspired by a work of art.
Now in its eleventh year the Songwriting Challenge welcomes back judges Jon Lawton (Owner, Crosstown Studios/producer), Kaya Herstad Carney (Threshold, Parr Street Music School), Luke Moore (composer/Operation Lightfoot) and Robert Vincent (award-winning musician and songwriter). We also welcome new judge Alison Benson (musician, music teacher, and multiple Challenge winner).
To enter the Challenge a songwriter must visit the Liverpool City Region (Merseyside and Halton) during the entry period of 6th September to 5th October and choose a piece of art that inspires them to write a new song. The songwriter or songwriters (collaborations are allowed) can choose any work of art on public display in the Liverpool City Region during the entry period, whether a painting, mural, statue, sculpture, stained glass window, pavement art, or anything else generally accepted as 'art'.
Songwriters have one month from the launch date to write the song and submit it as a recording along with a copy of the lyrics and a photo of the art. The judges will listen to the art-inspired songs and mark each one on lyrics, melody, composition and originality.
The ten highest scoring songs will be announce at the end of November and will be performed at the Showcase Final on Saturday 22nd January 2022 at Leaf on Bold St where the Judges' Award winner will be announced. The audience at Leaf will be able to vote for which song wins the Audience Favourite award.
The winning songwriters in the two categories – Judges Award and Audience Favourite – receive the following prizes:-
Song professionally recorded by judge Jon Lawton at Liverpool's Crosstown Studios.
A two hour vocal or songwriting lesson, from judge Kaya Herstad Carney at Parr Street Music School.
A cello lesson or a cello part on the song recording, from Operation Lightfoot's Luke Moore.
The Songwriting Challenge is open to anyone of any age living in the UK. However, entrants must have visited the Liverpool City Region (Liverpool, Sefton, Wirral, St Helens, Knowsley, and Halton) between 6th September and the closing date of 5th October.
The rules and conditions of entry are available on the Songwriting Challenge website.
challenge.liverpoolacoustic.co.uk
The Liverpool Acoustic Songwriting Challenge is free to enter.
Entry to the Showcase Final in January 2022 will be by ticket, available in advance from 7th December. All profits raised will be split between Marie Curie Cancer Care and Garston Animal Rescue in memory of Liverpool Acoustic team member Sharon Jones who died in May 2011.