Wow! What a night!
The 'Alchemy' album launch at Thornton Hough Village Club was a great success.
There's nothing better than the feeling of playing your own songs and having a room full of people singing your lyrics back to you. It's a surreal moment and one I'll never forget.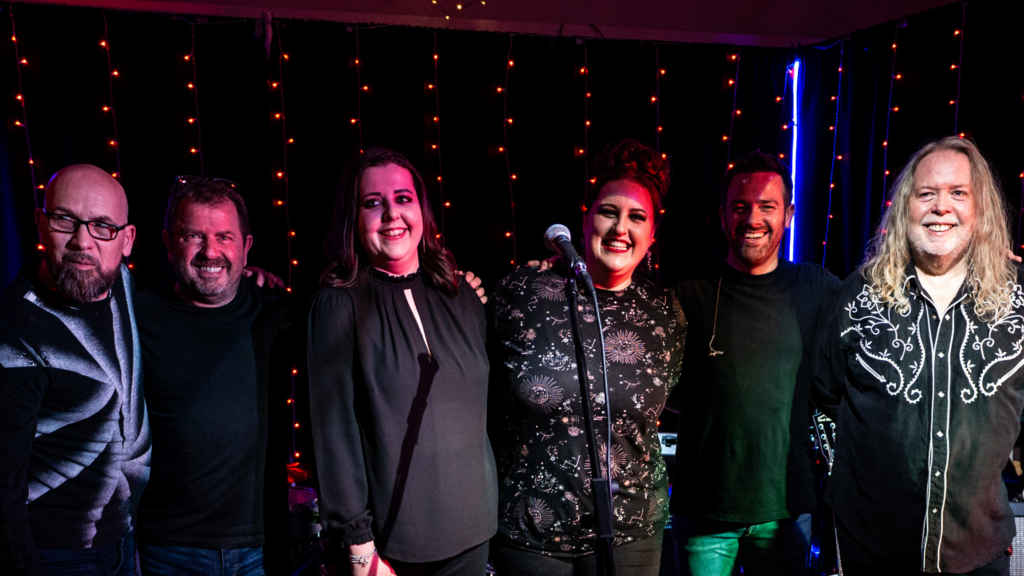 A massive thank you to (left to right above):
Steve Bonacio – bass guitar
Chris Bradshaw – keys
Helen Maw – backing vocals
Jade
Liam Rogers – drums
David Crilly – lead guitar
Without the band, the night wouldn't have been as great as it was. You guys brought my music to life. It was SO CLOSE to the record, even though I didn't ask for that. The time you put in was incredible and I'm so honoured to have shared the stage with you.
Thanks must be given to the amazing Cal Ruddy who opened the night for us. He really set the tone for the evening and got everyone in the crowd involved with his set. I thoroughly enjoyed watching it from the sidelines. If you ever get the chance to watch Cal live, don't miss it!
Thornton Hough Village Club (THVC) said:
"Jade Thunder has been singing/playing other peoples music for a long time, in various guises, but all the while she's been amassing her own material just waiting for the opportunity to unveil it to the world. That wait is over.
"Truth is Jade is an excellent singer-songwriter in her own right, and her years of playing other peoples music up and down the land have made her a consummate performer and band leader. Last night she absolutely nailed it. Quality songs and a great performance earned Jade and her excellent band a well deserved standing ovation at the end of the night. And what a memorable night it was.
"Let's hope there's many more to come. Do check out her album 'Alchemy', and go and see her performing it live if you get the chance.
"Thanks all who came along for the ride, and special thanks to Cal Ruddy for a great opening set."
A HUGE thanks must be given to Neil Johnson, a volunteer at THVC, for the awesome sound, staging, and lighting. He was also the compare for the evening as well. Is there anything this man can't do?!
Seriously though, from the bottom of my heart – thank you. To everyone. Whether you sent a private message, commented on social media, or attended the event in person, your support was greatly appreciated and always will be.
See you all VERY soon!
JT x